Testimonials
Our Customers Love Us!
"... inevitably, we turned to the Internet. We used Google to find an eight-way, hand-tied sectional—and a vendor, CarolinaChair.com. It advertised its quality construction, free shipping and 30-day-money-back guarantee: They will pay the cost of shipping for a return, excluding items made with custom fabrics, within the first 30 days. And the prices for sectional sofas were about $1,000 to $2,000 cheaper than those in the stores ... On Nov. 12, Chad sent us an e-mail saying the fabric had been received and that we should receive the couch by Dec. 21. On Nov. 25, we noticed that the credit card had been charged, meaning the furniture had been shipped. On Dec. 5, a local delivery company called to set up a delivery time. The delivery guys said they would come between 9 and noon on Dec. 1—they showed up promptly at 9:30 a.m. And the sofa was beautiful." Read the complete article
Julia Angwin - staff reporter for The Wall Street Journal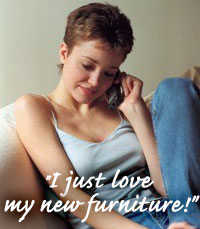 Read more from our customers! Photos are positioned above the testimony. Testimonies from previous years can be accessed underneath the last testimony on this page. Also, be sure to check out our Google Reviews on the web.
---
I am so happy with the sofa and loveseat-just wanted to send you a photo. Thanks!
C. Powell, North Carolina, 8/20
---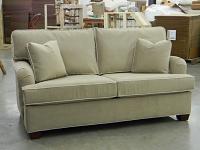 Old fashioned customer service by a 3rd generation family business…so helpful and easy to work with. A brother and sister are keeping a family tradition of making coveted N Carolina quality, custom made furniture at factory direct prices. You will pay twice, maybe more, at any quality retail store. Price includes shipping! They made my sofa to my specifications…color, size, style…and it arrived EXACTLY as I had asked for…all on line! Best major furniture purchase I ever made!
E. Houston, California, 7/7/22
---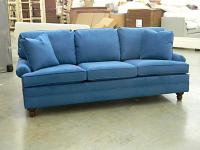 Hi Cathy,
The sofa has landed! It's just beautiful!
Thanks,
A. Smith, Tennessee, 7/22/22
---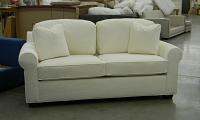 Hi Cathy,
I received my sofa Sunday morning, June 5th. Momentous! The young men were very nice and did a great job. They put it just where I wanted and opened it to check the sleeper.
It's beautiful and perfect! The fabric is soft and the color is bright. It's the star of the living room. Thank you!
Though I remember talking w/you about keeping it clean I don't remember what was said. I'll look online for the info about the fabric. I hope you won't mind if I call w/any questions.
I do tell everyone I speak to about my positive experience with Carolina Chair.
I want to thank you very much for your help and patience. I appreciate especially your help with choosing the fabric. (It took me so long to make a decision. I looked at so many swatches!) You have many customers and I don't know if you remember but I imagine you may have been surprised when I actually finally ordered.
I wish you and your family all the best. Thank you, all many times, over!
Sincerely and best wishes,
J. Dorfman, Pennsylvania, 6/25/22
---
Hi Cathy,
We received our beautiful new furniture on Saturday and we could not be more pleased with the appearance and quality. The material is lovely, the cushions are firm yet so comfortable, and the workmanship is meticulous. D & D arrived within the scheduled timeframe and the guys who delivered our furniture were careful and courteous. And your customer service is second to none! Thank you to everyone involved in creating our sectional. It was so worth the wait!
Pictures attached :)
Thanks again,
S & J Wood, New York, 6/21/22
---
It came Cathy!!!!! It's beautiful and absolutely perfect. Love, love, love!!!! Will write a google review. Tell your brother he's an artist. Thank you so much!
B. Olson Florida, 5/22/22
---
Hi Cathy,
I received the air bladder for my Air Dream mattress. It was shipped very quickly. I appreciate being able to work with you and your company. All correspondence has been very timely and professional. You combine the convenience of online technology with excellent personal service.
I look forward to working with you again in the future.
Best wishes,
C. Adams, Texas, 5/4/22
---

Our sofa set delivered yesterday, and we LOVE it. We bought a Henley style sofa and loveseat, adding poly with fiber wrapped back cushions, and we did use our own fabric. The set is just perfect. It is SO well made and has a solid feel to the sit and the cushions. The professionalism and care CarolinaChair took to manufacture this set is evident just by looking at it. It's a beautiful set and we would be very happy to recommend you to others! Thank you.
P. Whitmer, Maryland, 4/25/22
---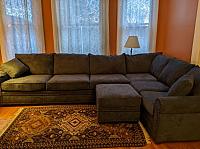 Hi Cathy,
We love our new couch! And the delivery guys were great. They were even able to deliver our couch a day early.
You have been great to work with and I assume business is going well with how busy you are, but could I offer a couple of suggestions?
I love how our ottoman exactly matches our couch, but I really wish it was bigger. Since the ottoman was included with ordering 3 pieces, I didn't think about it before, but if you had offered me the opportunity to buy a bigger storage ottoman at a reduced price instead of including the free one, I would have done that.
I love the couches and chairs that you build and I appreciate the craftsmanship behind them, but when I have shared your website with friends they have all mentioned that the style of couches in the pictures are very traditional, maybe add in a few pictures of a mid century modern couch or a linen-clad pottery barn style couch.
But that's just my two cents, so take it for what it's worth. I think our couch is perfect, I am especially glad we increased the seat depth, it's great for TV watching. And it fits in our Victorian house perfectly!
Thanks again,
Melanie Finley
M. Finley, Pennsylvania, 3/29/22
---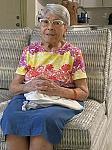 Hello Cathy!
Home Delivery Service did a great job in what could've been a confusing delivery. Apparently my sister was under the assumption someone was going to call 1/2 hour prior to getting to the condo BUT they got there and called me when they realized the only one home was my 91 year old mother and she had no clue about the chair, They called me, I got Eileen on the phone with them and she was there within 15 minutes. ALL was fine; my mother has proclaimed the chair as hers (see attached picture).
As always Cathy, you and your family's pride shows in the pieces we have purchased from you through the years and I ALWAYS tell them about your wonderful company when the compliments are made.
Take care Cathy!
N. Hernandez, Florida, 3-15-22
---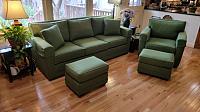 See photo. We're out shopping for new rug to complement. Thank you and all the Carolina Chair team.
J. Sanders, North Carolina, 3/9/22
---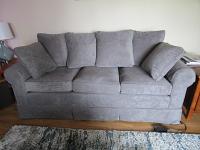 I LOVE IT!!
Everything about this sofa is just perfect. The size, the fabric and color, all the cushions, classic style and super comfy. I don't want to leave home anymore! LOL!!
Also, the delivery guys were excellent. Very efficient, super-fast, in and out in minutes! Gave me an hour heads up and were here right when they said.
I am telling everyone I know about you guys. So happy I stumbled upon you!
Best to you and your family,
J. Difeo, Washington, 3/8/22
---
Good morning, Cathy.
Our chairs came on Saturday and they are beautiful. Thank you, your brother, and your workers.
J. Caccamise, South Carolina, 1/18/22
---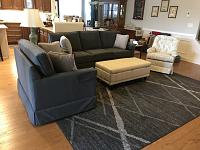 Cathy,
Our furniture was delivered this morning. I love my fabric choices too!!! It looks great and has created much more seating in this funky room that I have to deal with. Will do a review on Google.
L. Dietz, Georgia, 1/13/22
---
Hi Cathy. I posted a glowing review of CarolinaChair on Google the other day. We love the loveseat/sleeper. The air mattress is pretty fancy. Clever technology! This is my favorite place to sit now. It will last forever.
Happy New Year. Much Success to Carolina Chairs in 2022 and beyond.
Note from CarolinaChair: be sure to check out all our Google Reviews.
D. Hobbs, Washington DC, 1/3/22
---
Our furniture was delivered today, and we are extremely happy with it. It's beautiful, comfortable and the quality is exceptional. We will recommend Carolina Chair to anyone who may be looking for beautiful furniture.
E&R Perkowski, Delaware, 1/1/22