Read more from our customers! (Photos are positioned above the testimony. Testimonies from previous years can be accessed underneath this testimony box.)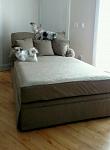 We are pawsitively happy with our new "Family Lounger". The craftsmanship and southern hospitality was greatly appreciated in this world of impersonal service. We will have pictures sent later when Dad can get off the Lounger. Now all 5 of us can have a bonding time and Dad does not have to sit on the floor.
Thanks a lot,
Maxie, Georgie, Ollie and oh our two legged human parents, Cathy and Daryl say thank you, too.
D. Gossett, North Carolina, 3/19/16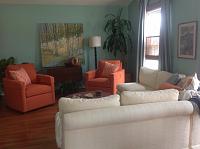 Oh my goodness....I love my new chairs! They are just beautiful and perfect. So wonderfully made! Thank you.
They arrived in perfect condition (with the extra fabric- thank you) and did not even have any funny smells common with new furniture.
Love and Light,
L. Goodwin, Virginia, 3/4/16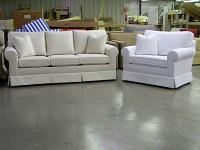 Delivery Day!!!!
Our sleeper and chair and a half were delivered late this morning. The pieces are exceptional and look fabulous in the rooms. My husband and I are very pleased with the quality and service we've received from you and the folks from Carolina Chair. I can't believe we ordered these online, sight unseen, from pictures and a small swatch of fabric! They look better than anything we've seen while shopping at the local stores.
The delivery men were courteous and professional. They were prompt and called us a half hour ahead of their arrival.
Thank you and the Carolina team...we love our new furniture!
Best,
L. Cardillo, Florida, 2/24/16

(Note: testimony from a repeat customer right here in North Carolina. They just placed their order for furniture for their South Carolina beach home. I attached a photo of their first sectional and will update this testimony once we finish manufacturing the furniture for their beach home. Thank you John and Sandy for coming back to us. We have many repeat customers and so appreciate them).
Cathy, Thanks so much for you and your brother's help with the loveseat and sofa order. The quality of your product, responsiveness to questions, flexibility to accommodate specific needs and your positive customer service really makes for an overall positive experience.
It is great working with you again.
J.and S. Watkins, North Carolina, 2/24/16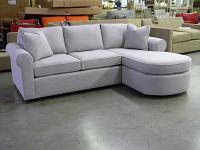 Hey Cathy,
Sorry for the delayed response. The sectional is great. So glad to have a couch again. Thank you for getting this done so quickly! Have a good weekend.
Best,
S. Heminway, Tennessee, 2/19/16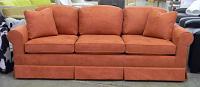 Cathy, my folks and my brother were also custom furniture builders for most of my life. My mother was a designer and my father and brother built what she sold as well as other designers. My brother still does some building but he was not an option for me on this project. My dad is almost 86 years old and he is now blind. Before I placed my order with you I went over with him everything you published on your web site. I am 60 years old and this is the first piece of upholstered furniture I have ever bought from anyone. Dad built everything I ever had in my home in the way of upholstered furniture. Even headboards and drapes came from his shop. Before finding you I looked at all of the franchise stores and I looked at all of the high end furniture stores in my area but could not find anything I was willing to spend my money on or, I felt the price was too high for the quality of product offered. My sister has been through the same thing.
My sofa arrived this morning. I am very pleased. The tailoring of the piece is a joy to see and the feel of the "seat" is wonderful. I could not be happier. I am especially pleased with the way the skirt lays around the bottom of the sofa and the way the box cushions are so crisp. I expect that this will be the last sofa I ever buy. I intend to enjoy it for years to come. I can't wait to show it off to my friends and family.
Thank you for a fine piece of furniture.
P. Nuckolls, Texas, 2/16/16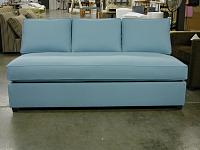 Hi Cathy,
It's been awhile! I am still loving my custom sofa, which is still so cozy. The mattress with the inflatable chamber is still going strong and extremely comfy. I'm a happy customer! I've told so many people about your work. My mother-in-law may actually become a customer soon. :)
Since you folks make such great cushions and pillows, I was wondering about the following: I have two vintage armchairs that still look great, but their cushions bit the dust (literally: the ancient foam looked like a box of Captain Crunch got crushed inside (ha ha) and I've been limping along with thin feather inserts that need constant plumping to be even remotely comfortable. Do you guys make replacements cushions for existing seat covers? If I sent the covers to you, could you make new, beautiful, plump cushions for them? I'm not yet sure what the best filler option would be, but maybe you'd give me some advice on that.
Hope you are having a happy, healthy, prosperous 2016!
Note: this is a customer who purchased from us in 2010.
H. McCormick, New York, 1/8/16
Happy New Year, Cathy.
I wanted to send you a short note to tell you about the wonderful delivery we received on Dec. 18. The couch is beautiful! It looks amazing in our family room. It arrived just in time for all the Christmas guests we had visiting us.
I took a couple of photos and they are attached here. We are very happy with the couch and thoroughly enjoyed working with you to create it.
​The dimensions were exact! So much so that the delivery guys commented on how it fit perfectly into the space we had marked off with tape. The color you helped me choose is perfect as well.
J. Dias, Georgia, 1/5/16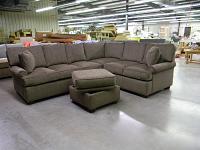 The new sectional has arrived! It fit through our old home's doorways with ease and fits perfectly into the area we planned for it. Thank you so much for all your help to get the dimensions just right. It is so beautiful and so very comfy. We have already enjoyed a couple of cozy movie nights snuggled up on it. Best of all- the whole family fits!
With much appreciation,
P. Comberg, Virginia, 11/21/15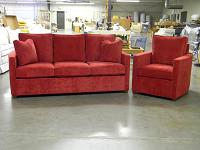 Dear Cathy,
After my wife and I had explored stores and online furniture manufacturers looking for a sleeper sofa, we decided to purchase one from Carolina Chair. We feel so fortunate that we chose your firm!
The sofa is not only beautiful but unbelievably comfortable. The sleeper bed that unfolds from the sofa is plush, easy to open, and extraordinarily well made. In fact, we liked the sofa so much that we also bought a matching chair which we love as well.
In addition to the fact that your furniture is so attractive and of such impeccable quality, we found that your personal "touch" and responsiveness to all our questions was very helpful. We have recommended your company to our friends and will order furniture again from you should the need arise. Thanks again.
M. Orfinger, New York, 11/15/15