Read more from our customers! (Photos are positioned above the testimony. Testimonies from previous years can be accessed underneath this testimony box.)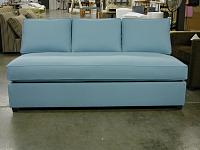 Hi Cathy,
It's been awhile! I am still loving my custom sofa, which is still so cozy. The mattress with the inflatable chamber is still going strong and extremely comfy. I'm a happy customer! I've told so many people about your work. My mother-in-law may actually become a customer soon. :)
Since you folks make such great cushions and pillows, I was wondering about the following: I have two vintage armchairs that still look great, but their cushions bit the dust (literally: the ancient foam looked like a box of Captain Crunch got crushed inside (ha ha) and I've been limping along with thin feather inserts that need constant plumping to be even remotely comfortable. Do you guys make replacements cushions for existing seat covers? If I sent the covers to you, could you make new, beautiful, plump cushions for them? I'm not yet sure what the best filler option would be, but maybe you'd give me some advice on that.
Hope you are having a happy, healthy, prosperous 2016!
Note: this is a customer who purchased from us in 2010.
H. McCormick, New York, 1/8/16
Happy New Year, Cathy.
I wanted to send you a short note to tell you about the wonderful delivery we received on Dec. 18. The couch is beautiful! It looks amazing in our family room. It arrived just in time for all the Christmas guests we had visiting us.
I took a couple of photos and they are attached here. We are very happy with the couch and thoroughly enjoyed working with you to create it.
​The dimensions were exact! So much so that the delivery guys commented on how it fit perfectly into the space we had marked off with tape. The color you helped me choose is perfect as well.
J. Dias, Georgia, 1/5/16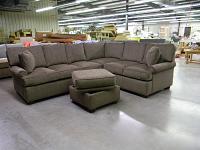 The new sectional has arrived! It fit through our old home's doorways with ease and fits perfectly into the area we planned for it. Thank you so much for all your help to get the dimensions just right. It is so beautiful and so very comfy. We have already enjoyed a couple of cozy movie nights snuggled up on it. Best of all- the whole family fits!
With much appreciation,
P. Comberg, Virginia, 11/21/15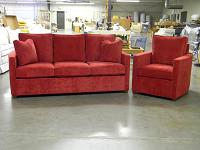 Dear Cathy,
After my wife and I had explored stores and online furniture manufacturers looking for a sleeper sofa, we decided to purchase one from Carolina Chair. We feel so fortunate that we chose your firm!
The sofa is not only beautiful but unbelievably comfortable. The sleeper bed that unfolds from the sofa is plush, easy to open, and extraordinarily well made. In fact, we liked the sofa so much that we also bought a matching chair which we love as well.
In addition to the fact that your furniture is so attractive and of such impeccable quality, we found that your personal "touch" and responsiveness to all our questions was very helpful. We have recommended your company to our friends and will order furniture again from you should the need arise. Thanks again.
M. Orfinger, New York, 11/15/15