Testimonials
Our Customers Love Us!
"... inevitably, we turned to the Internet. We used Google to find an eight-way, hand-tied sectional—and a vendor, CarolinaChair.com. It advertised its quality construction, free shipping and 30-day-money-back guarantee: They will pay the cost of shipping for a return, excluding items made with custom fabrics, within the first 30 days. And the prices for sectional sofas were about $1,000 to $2,000 cheaper than those in the stores ... On Nov. 12, Chad sent us an e-mail saying the fabric had been received and that we should receive the couch by Dec. 21. On Nov. 25, we noticed that the credit card had been charged, meaning the furniture had been shipped. On Dec. 5, a local delivery company called to set up a delivery time. The delivery guys said they would come between 9 and noon on Dec. 1—they showed up promptly at 9:30 a.m. And the sofa was beautiful." Read the complete article
Julia Angwin - staff reporter for The Wall Street Journal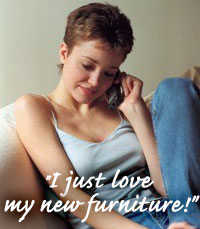 Read more from our customers! (Photos are positioned above the testimony. Testimonies from previous years can be accessed underneath this testimony box.)
---
Hi, Cathy - Please tell your brother we think he did a BEAUTIFUL job on our sofa. She's so pretty. We love it!
And thanks to you and Loretta for everything you did to help us get here.
We're considering what we'd like to order next...please let me know if there are any feet choices in addition to the feet page on your website.
Thanks.
E. Frischberg, New Jersey, 5/19/19
---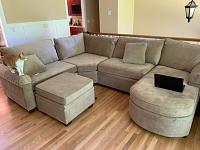 Hey Cathy,
The sectional arrived today! It looks great and feels really comfy. It feels extremely well built (as usual). The length fits just as we had measured and the custom piece is a perfect fit. I am glad we went for the traditional cushions and backs. I think as we get older we prefer the additional support the firmer cushions provide.
I've attached a picture, I can take a few more if you'd like (without the cat or laptop). Thanks again!
Note from CarolinaChair: the Sullivan's are repeat customers.
M. Sullivan, Washington, 5/9/19
---
We have been enjoying our couch for a week now and the best description of how happy we are happened the other night when my beloved bride told me she loved me almost as much as the new sectional. When I looked at her a little cross's eyed, she assured me it was a good thing, because she REALLY loved the new sectional.
The sectional is where we now snuggle together every evening and watch Netflix or read books.
Thank you so much.
R. Paulson, Washington, 4/26/19
---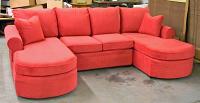 Hello Cathy,
Just a note to let you know we love our new couch! It's exactly what we wanted.
I will definitely recommend CarolinaChair to family and friends.
p.s. Delivery was easy - the guys were great.
L. Mitchell, Massachusetts, 3/27/19
---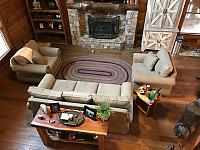 Cathy,
Our furniture is beautiful!! The quality is exceptional and I love the fabric. It was a pleasure doing business with Carolina Chair and I will definitely order again.
Thank you
C. & B. Blair, Georgia, 2/19/19
---
Hi, Cathy!
We are absolutely thrilled with the custom sofa we purchased from Carolina Chair last year! It is everything we hoped for in our new sofa and the quality is amazing!
C. O'Dell, South Carolina, 1/20/19
---
HI Cathy,
I hope all is well with you and your family. I just wanted to say that I absolutely LOVE my love seat and chair. It's sooooooo beautiful. Thanks to you, your brother and your entire staff for always doing a wonderful job.
D&D Delivery was great as well. I found another home and I will be moving in with my new beautiful furniture, My other beautiful pieces that your talented brother made are coming with me too of course. Thank you.
Again Cathy and your brother. I appreciate you guys.
Note from CarolinaChair: S. Bagley has ordered from us multiple times. She is definitey a fan of our quality and we SO APPRECIATE HER! We are including photos of a few of her past orders beginning in 2010.
S. Bagley, New York, 1/15/19
---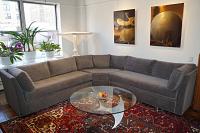 Cathy,
Our custom Byron sectional sofa was delivered this past Saturday. It is truly beautiful. CarolinaChair did every custom change we asked for and did them perfectly. The sleek new sofa goes with everything else in our living room, and I can finally sit comfortably there. We will write a "story" for your website and a 5-star review on Google, though it may take a while for us to do it. (I don't have a Google plus or Gmail account and I may have to create one.) I have attached two photos I took of the new sofa in our living room. I will send better ones later – when I took these I didn't notice that I caused odd dark patterns on the cushions from using a lint brush to try to make the fabric look uniform. The Baltimore fabric looks much better after normal use, and it is so soft I want to roll on it like a puppy.
The custom sectional you make for us is in our living room, and it is gorgeous. We are sending photos to our friends and plan to have a party just to show it off.
P. and G. Goldenhagen, 1/17/19
---
The couches are in and look beautiful! So comfy!!!
Thank you so much. When we need more furniture, we will be calling you.
L. Anderson, California, 1/3/19
---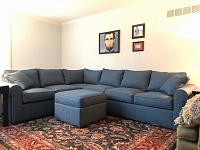 Hi Cathy,
Just an FYI. Our sectional was delivered on 12/18. We love it! My husband is so happy to have a comfortable spot to watch TV. We received many compliments over the holidays.
I feel the sectional is great quality for the price. CarolinaChair is easy to work with and helps in making decisions about what will work.
Note from CarolinaChair: H. Meckes is a repeat customer!
H. Meckes, Missouri, 1/2/19