Testimonials
Our Customers Love Us!
"... inevitably, we turned to the Internet. We used Google to find an eight-way, hand-tied sectional—and a vendor, CarolinaChair.com. It advertised its quality construction, free shipping and 30-day-money-back guarantee: They will pay the cost of shipping for a return, excluding items made with custom fabrics, within the first 30 days. And the prices for sectional sofas were about $1,000 to $2,000 cheaper than those in the stores ... On Nov. 12, Chad sent us an e-mail saying the fabric had been received and that we should receive the couch by Dec. 21. On Nov. 25, we noticed that the credit card had been charged, meaning the furniture had been shipped. On Dec. 5, a local delivery company called to set up a delivery time. The delivery guys said they would come between 9 and noon on Dec. 1—they showed up promptly at 9:30 a.m. And the sofa was beautiful." Read the complete article
Julia Angwin - staff reporter for The Wall Street Journal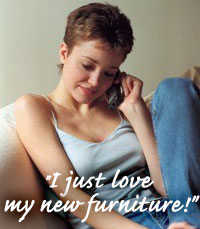 Read more from our customers! Photos are positioned above the testimony. Testimonies from previous years can be accessed underneath the last testimony on this page. Also, be sure to check out our Google Reviews on the web.
---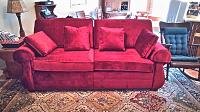 Hi Cathy,
We arrived at our cabin in the Shenandoah Mountains this afternoon and were thrilled to see the beautiful ruby red sofa in its new home. The fabric and the workmanship were top of the line. Our rating is 5 Stars without question.
I would encourage anyone interested in purchasing fine quality, made in America furniture to visit the CarolinaChair website. When you consider that for a few hundred dollars more than the price of "stuff" at large warehouse stores, you can have a piece of furniture that you will enjoy for many years to come. In fact, I expect my children and grandchildren will enjoy the lovely ruby red sofa when they inherit the cabin in the woods.
Please convey our appreciation to all your employees and the men from the delivery service who handled the sofa with care.
We hope you will continue your skilled craftsmanship for many years to come.
Jeanne Woodward
J. Woodward, Virginia, 2/10/23
---
Hi Cathy!
Our latest CC creation arrived last evening and it is gorgeous!! The Home Delivery guys got it here a day early and were same 2 who delivered our Sofa, Chairs, Ottomans in June. Super friendly and careful.
I'll send pics of previous CC creations and better pic of this one and rave reviews of your company in a few days.
Thank you for your beautiful work and super customer service!
K. Baillie, Virginia, 2/9/21
---
Cathy, I have been busy with bathroom remodels and had to cover all my furniture, finally getting back to normal.
My sofas are beautiful. Absolutely love them and fit perfectly in my home.
Thank you!
A. Belfiore, California, 1/17/23
---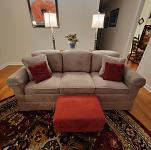 Cathy,
We received our Sofa last evening. It is beautiful! The delivery was made as it was promised. The two young men were very professional and placed it in our living room.
John sent a photo of the new sofa and ottoman that we purchased earlier. He also put it on google review.
Thank you! We are very pleased with both pieces and the delivery.
N. Kitchens, Georgia, 1/12/23