Testimonials
Our Customers Love Us!
"... inevitably, we turned to the Internet. We used Google to find an eight-way, hand-tied sectional—and a vendor, CarolinaChair.com. It advertised its quality construction, free shipping and 30-day-money-back guarantee: They will pay the cost of shipping for a return, excluding items made with custom fabrics, within the first 30 days. And the prices for sectional sofas were about $1,000 to $2,000 cheaper than those in the stores ... On Nov. 12, Chad sent us an e-mail saying the fabric had been received and that we should receive the couch by Dec. 21. On Nov. 25, we noticed that the credit card had been charged, meaning the furniture had been shipped. On Dec. 5, a local delivery company called to set up a delivery time. The delivery guys said they would come between 9 and noon on Dec. 1—they showed up promptly at 9:30 a.m. And the sofa was beautiful." Read the complete article
Julia Angwin - staff reporter for The Wall Street Journal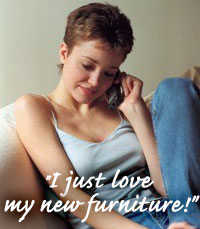 Read more from our customers! Photos are positioned above the testimony. Testimonies from previous years can be accessed underneath the last testimony on this page. Also, be sure to check out our Google Reviews on the web.
---
Our furniture was delivered today, and we are extremely happy with it. It's beautiful, comfortable and the quality is exceptional. We will recommend Carolina Chair to anyone who may be looking for beautiful furniture.
E&R Perkowski, Delaware, 1/1/22