Greetings Cathy,
The delivery was made last Weds evening while our daughter from Denver was visiting for a few days. (That's her on the chaise!). The guys were superb and efficient.... fast and accommodating. We got the new color painted on the accent walls the morning of arrival day....home delivery came around 6:30 pm. Had to put the denim ottoman and pillows in another room because the new pieces are so much larger than the early mother-in-law furniture that was removed. The pieces are beautiful and SO comfortable.....well worth waiting for. We are heading to the summer place in MI June 1st, so we will look forward to returning to the beautiful furniture. Just love the freshness and fine quality.
Thank you so much.
L. Tonar, Michigan, 5/17/21
---
Cathy, so sorry I am so late in getting these to you but WE LOVE the new sofa. We live in a very old (1870) Victorian townhouse, which is very deep and narrow. It makes finding furniture that works for a family difficult so that the scale is appropriate to the room, but still large enough for all of us to enjoy together. I loved being able to customize all of the dimensions and other elements like the skirt and the welting. It is just beautiful. Thank you.
H. Lehman, Washington DC, 5/5/21
---
---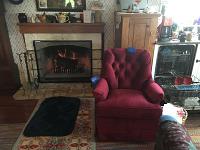 Beatutiful chair! Thank you, Cathy!
note from CarolinaChair: M. Gerber a repeat customer and has ordered from us many times!
M. Gerber, Missouri, 4/14/21
---
Hi Cathy,
It was so refreshing to find a company that can manufacture custom furniture with exceptional quality and craftsmanship that is made in America! We absolutely love our custom button-tufted sofa and ottoman. The sofa is so comfortable and is just what we wanted — Just Gorgeous!!
It was a pleasure dealing with you and awesome to know that all of the folks at Carolina Chair take such pride in their work! The delivery guys were professional and courteous too. A seamless experience from start to finish — can't thank you enough.
B. Centanni, New Jersey, 4/13/21
---
We had a perfect delivery (I called D&D to tell them so!)
I will get some pix and a review together soon! Thanks Cathy!!
R. Cole, New Hampshire, 3/22/21
---
Hi Cathy. We received our furniture! It's perfect! I will give good recommendations etc. on the weekend. Thanks! I just wanted you to see it in the home.
C. Haig, Arizona, 3/17/21
---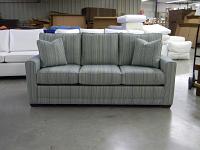 Cathy,
The sofa is amazing! Thank you for all your amazing help in making my job easier! The delivery company was exceptional! Thank you again for having such a wonderful company! I did do a review on google!
Thank you again.
N. Treis, North Carolina, 3/16/21
---
Cathy,
The sectional arrived and the movers were very professional and kind. I love the workmanship. I have left a 5 star testimonial on Google under RP Boudreau. Thanks so much.
R.P. Boudreau, California, 2/15/21
---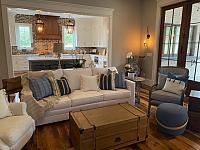 Thank you very much! I'm attaching a picture. It really is a beautiful picture and I will certainly share my story about it.
A. Thompson, Georgia, 2/11/21
---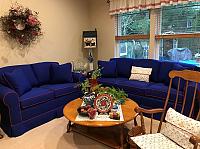 Dear Cathy,
It was sooooo worth the wait. I couldn't be more pleased with my sofa and loveseat. While ordering online can be a gamble, I feel like I hit the jackpot with Carolina Chair. I've been asked why didn't I just go to a local furniture store? My response is sure if I wanted gray, tan or brown! And then being able to customize the size along with the fabric and trim made this an easy decision to make.
B. Pendleton, Washington, 2/11/21
---
Cathy,
The sofa arrived today and I love it. Such clean lines and, of course, superior craftsmanship! D&D was great and bringing the sofa into my condo was a non-event since I live on the first floor by the rear entrance. I look forward to receiving the matching Harrison patterned chair because I think they'll make a great match.
Thanks so much for all your help.
A. Cullen, Massachusetts, 1/17/21
---
I got it late last night, Cathy. The delivery people were a bit late due to traffic but came as promised and were very helpful and careful. The loveseat was a tight fit, but it did fit and looks good in my living room.

These pictures shows how well my Bengals look with my new loveseat.

M. Friedman, New York, 1/5/21
---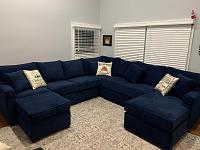 Hi Cathy,
I wanted to let you know our couch arrived and is fabulous. The delivery crew was top notch - I was kind of nervous about ordering sight unseen but it is even better than I imagined. Thank you!
E. Sabato, New Jersey, 1/5/21
---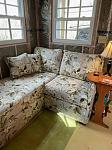 Thanks Cathy.
This is it, it fits perfectly. I wish my walls and floors were done so it was a better picture. Maybe when we get it all finished, I'll send you a nicer looking one.
I really like it and it fits like a glove in that small space. Thank you so much.
M. K. Layman, Tennessee, 1/4/21
---
We purchased the Kingsley style in the Baltimore Aubergine fabric. The styling was just what we wanted - 2 cushion couch, snug fitted backs, and the fact that we could adjust the height was key! My husband stands 6'5", and most couches/chairs make him feel like he is sitting on the floor. We went with the ultra firm cushions and the 4" legs and the furniture is very comfortable. Very pleased with the service and follow up. Bonus, the cats approve!
P. Harman, North Carolina, 1/4/21
---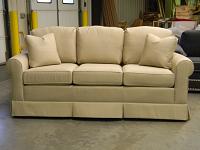 Dear Cathy,
I just want to say, thank you for the beautiful sofa! It is sturdy and easy to get up from too. I will leave an excellent rating for sure!
S. Bradford, Tennessee, 1/2/21
---
We received our lovely; and PERFECT, love seat a few days ago. I posted a Five Star google review with pictures because I couldn't figure out how to post a review directly on your site. I'm old and feeble minded so if you want it reposted on your site just gimmee a link and I'll do it ;-)))))) Merry Christmas and brace for the New Year!!!! All our Best to you and your brother! Thank you again!
Note from CarolinaChair: we encourage all prospective customers to check out our Google Reviews. They are really awesome and we thank our equally awesome customers.
B. Kelsey, North Carolina, 1/1/21
---