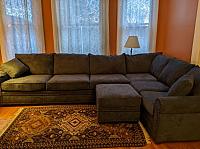 Hi Cathy,
We love our new couch! And the delivery guys were great. They were even able to deliver our couch a day early.
You have been great to work with and I assume business is going well with how busy you are, but could I offer a couple of suggestions?
I love how our ottoman exactly matches our couch, but I really wish it was bigger. Since the ottoman was included with ordering 3 pieces, I didn't think about it before, but if you had offered me the opportunity to buy a bigger storage ottoman at a reduced price instead of including the free one, I would have done that.
I love the couches and chairs that you build and I appreciate the craftsmanship behind them, but when I have shared your website with friends they have all mentioned that the style of couches in the pictures are very traditional, maybe add in a few pictures of a mid century modern couch or a linen-clad pottery barn style couch.
But that's just my two cents, so take it for what it's worth. I think our couch is perfect, I am especially glad we increased the seat depth, it's great for TV watching. And it fits in our Victorian house perfectly!
Thanks again,
Melanie Finley
M. Finley, Pennsylvania, 3/29/22
---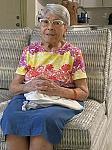 Hello Cathy!
Home Delivery Service did a great job in what could've been a confusing delivery. Apparently my sister was under the assumption someone was going to call 1/2 hour prior to getting to the condo BUT they got there and called me when they realized the only one home was my 91 year old mother and she had no clue about the chair, They called me, I got Eileen on the phone with them and she was there within 15 minutes. ALL was fine; my mother has proclaimed the chair as hers (see attached picture).
As always Cathy, you and your family's pride shows in the pieces we have purchased from you through the years and I ALWAYS tell them about your wonderful company when the compliments are made.
Take care Cathy!
N. Hernandez, Florida, 3-15-22
---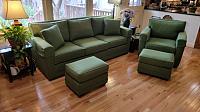 See photo. We're out shopping for new rug to complement. Thank you and all the Carolina Chair team.
J. Sanders, North Carolina, 3/9/22
---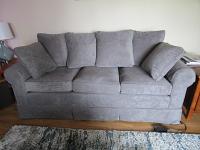 I LOVE IT!!
Everything about this sofa is just perfect. The size, the fabric and color, all the cushions, classic style and super comfy. I don't want to leave home anymore! LOL!!
Also, the delivery guys were excellent. Very efficient, super-fast, in and out in minutes! Gave me an hour heads up and were here right when they said.
I am telling everyone I know about you guys. So happy I stumbled upon you!
Best to you and your family,
J. Difeo, Washington, 3/8/22
---
Good morning, Cathy.
Our chairs came on Saturday and they are beautiful. Thank you, your brother, and your workers.
J. Caccamise, South Carolina, 1/18/22
---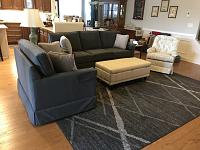 Cathy,
Our furniture was delivered this morning. I love my fabric choices too!!! It looks great and has created much more seating in this funky room that I have to deal with. Will do a review on Google.
L. Dietz, Georgia, 1/13/22
---
Hi Cathy. I posted a glowing review of CarolinaChair on Google the other day. We love the loveseat/sleeper. The air mattress is pretty fancy. Clever technology! This is my favorite place to sit now. It will last forever.
Happy New Year. Much Success to Carolina Chairs in 2022 and beyond.
Note from CarolinaChair: be sure to check out all our Google Reviews.
D. Hobbs, Washington DC, 1/3/22
---
Our furniture was delivered today, and we are extremely happy with it. It's beautiful, comfortable and the quality is exceptional. We will recommend Carolina Chair to anyone who may be looking for beautiful furniture.
E&R Perkowski, Delaware, 1/1/22
---