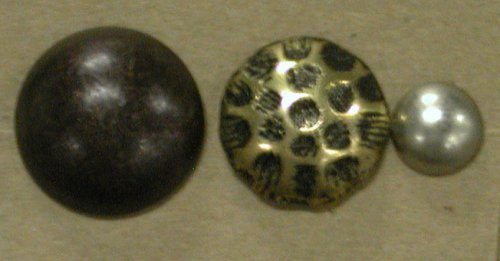 Left to Right – Old Gold 'Z' finish nailheads / Hammered Oxford finish nailheads / Pewter finish (silver) nailheads
Please view our custom inspirations photo gallery to see how our customers have used nailhead trim to customize their furniture.
Nailhead trim, also known as decorative nail heads or tacks, is a decorative embellishment that can give your furniture a very sophisticated look. Nailhead trim can accentuate the style and lines of your furniture ... it is like jewelry for your furniture. Our customers have created beautiful sofas, chairs and ottomans accented with nailhead trim. In the past, nailhead trim was usually associated with traditional and leather furniture styles but increasingly nailhead trim is being used to accent transitional and contemporary furniture. Whether you choose antique or shiny brass nailheads, hammered nailheads or pewter and silver finish nailheads, you can get a look that is just right for you.