It arrived safe and sound in my absence and fits well into one side of the bay windows.
N. Kerr, Colorado, 8/15/18
Hi Cathy. The chair is just fantastic!!! We'll order an exact duplicate as soon as the remodeling's done...and we'll also need one of your great sleepers to replace a 40-year old clayton marcus...
Thanks for such a wonderful product!!!!!
B. Hanley, Maryland, 7/31/18
Dear Cathy,
We wanted to reach out to you and thank you for all your guidance and help as we finalized plans for our new couch.
The couches are of such high quality ~ very comfortable and we love the fabric choice! Thank you for your patience.
Everything went very, very well and you were right regarding picking out the floor protectors ourselves. I ordered 3" x 3" Square ~ Heavy Duty Antislip Furnature pads: 'PREMIUM ANTISLIP PADS' by Mr. Pad. I ordered via 2-Day Amazon Prime. They were perfect size. Highly recommend.
The delivery company worked out just fine. They were professional and very respectful.
I will go on google to give a high recommendation to the movers as soon as things quiet down a moment. I have family coming in shortly from WA.
Much appreciation,
K and K Raab, New York, 7/29/18
We love, LOVE the couch and so does everyone that sees you I can't tell you how many people have asked about it. Thank you for everything!
B. Moretz, North Carolina,7/26/18
Dear Cathy,
Thank you for the beautiful white sofas. They look lovely in our living room. The delivery process went smoothly and we are delighted.
H. Bell, Michigan, 7/9/18
It requires something of a leap of faith to order a couch sight-unseen on the internet, but we are so glad we did. Communications with Carolina Chair were frequent, prompt and friendly. The delivery people were so hard-working and personable, we still speak of them. If I could make one, unsolicited suggestion, it would be that you somehow work "couch" into your company name, so it will come up more readily on an internet search. I wasted time with another company (never again!), not realizing that Carolina Chair also makes couches.
We have had our good-looking, high quality, custom couch for 3 weeks now. It has withstood serious sit downs, naps and an overnight. It is on its way to becoming a member of the family.
Thank you for such a great experience with Carolina Chair (and Couch)!
P. Baessler, California, 7/9/18
The cushions arrived. Couch looks brand new. Thanks again.
(note: The Sippola's ordered from us in 2006 and needed replacement back cushion fillers after all the years of use. It's one of many advantages of being a small, family owned business. We have purchase records and offer a personalized service to our customers).
R. Siipola, Washington, 7/6/18
Cathy,
Sectional was delivered yesterday and is now part of the family. Everything looks great and is very comfortable. I like the fact that you did exactly what you said you would do. You explained everything and then the whole process worked just like you said.
We look forward to enjoying our new furniture for years to come.
J. & J. Faldowski, North Carolina, 6/13/18
Hi Cathy,
I am so happy with my purchase of the Hughes queen sleeper sofa! The fabric is wonderful! It looks beautiful!
I have been on the website for a long time but this time I decided to make a purchase! Our cheap futon broke, again, that was enough for me. Just like in baseball the third time you're out!
I told my husband I was ordering my Carolina Chair Hughes sleeper sofa and he told me to "go ahead". So I did! Cathy sent me fabric samples so we could choose the fabric and color we wanted. It has to be durable since we watch our grandchildren.
I placed my order and got a reply from Cathy that she had received the order.
Before I knew it, Cathy sent us an email stating our sofa had been picked up for delivery! She also sent us a picture of our sleeper sofa before they packed it for shipment!
The Home Delivery Service company gentlemen were wonderful! Even though the traffic and construction had caused them to run an hour late, they were friendly and polite. They called to let us know when they would arrive.
We are very happy with our whole experience with Carolina Chair and the Home Delivery Service, Inc.
D. and V. Habermas, Michigan, 6/5/18
Dear Cathy,
Our sofa and loveseat arrived yesterday. The guys from Home Delivery Service were exceptional. Your furniture is quite extraordinary and we are well pleased with our decision to patronize your great company.
Thanks in advance for your help! We appreciate your kindness and attentiveness.
D. Robinson, Maryland, 5/3/18
Hello - here is my loveseat in its new home! I am very happy with it and I can put something on your website. Thank you for the fabulous service!
I like the fact that I could get a quality custom loveseat in a fabric of my choice. I looked around extensively and settled on Carolina Chair. I received fantastic customer service and all my questions were answered. I really enjoyed doing business with a family owned company! I am totally satisfied with my purchase and love how it looks in my home!
R. Fleming, Montana, 4/18/18
We just received sectional number FIVE from CarolinaChair and once again they did not disappoint! This one was a custom size to fill a space in a media room in a mountain lodge. It's gorgeous.
We have several rental homes, Clements Family Vacation Rentals, so we require well made furniture that will hold up to a lot of use. Our first sectional we purchased was in 2013 and it's holding up great. Since then, we have purchased four more and have loved every one.
CarolinaChair is wonderful to work with and the quality of the furniture is second to none. We still have two condos that we will be updating in the near future and plan to buy from this wonderful company again.
Sincerely,
S. Clements, Alabama, 1/26/18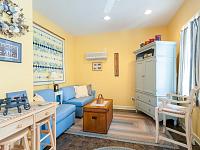 Note: This customer ordered in December, 2007 and send us this wonderful testimony:
These chairs were one of the best investments we ever made. We use them for over-flow company and in the picture you can see them nicely adorning our pool house. We placed a small side table in the middle to serve as a night stand for company. We have had company of all shapes and sizes sleep in them and report how comfortable they are ~ this from family members who are not shy about expressing themselves! They even 'fight' over who gets to stay in the pool house and sleep on them. Even though we have owned the chairs for almost 10 years, they look as good as the day we took delivery. We would buy these again without hesitation.
A. Wilson, North Carolina, 1/25/18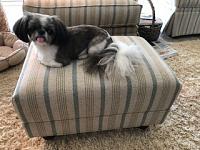 Cathy, the ottomans arrived about 1:00 today and they are absolutely perfect. As you can see, Dylan agrees. They do exactly what I wanted them to do, make a tiny space appear larger. I must tell you that you have been the most pleasant company to deal with of anyone I have worked with in a very long time. Thank you so much. And I will be telling folks about you.
S. Barger, Alabama, 1/22/18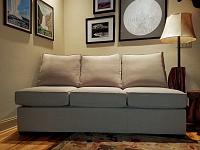 The couch is in place and is lovely. We really like the thicker cushions and high back. Thank you for all of your help. It fits perfectly in its corner. The dog and kids were gone so no furry friends.
Thanks so much!
J. Ballard, Colorado, 1/2/18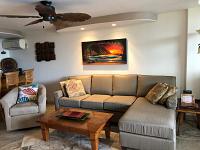 Hi Cathy,
Just wanted to send you a quick note to let you know that we love our new chaise sofa and swivel chair!!! The delivery to our Maui condo went off without a hitch. Thanks to you working with us on custom measurements, there were no issues with getting the pieces into the elevator and through the tight front door of our Maui vacation rental. The quality of the furniture is exceptional— very comfortable and extremely well-constructed!!!! We would recommend CarolinaChair Company to anyone in the market for quality custom-made furniture at a reasonable price.
Thank you again for making this such a smooth process. We are thrilled with our new furniture and will order from you again when we need new furniture.
D. Danelinko, Hawaii, 1/1/18